Last update: 4 December 2017
My mother was a concert pianist. That explains a lot, I suppose. But you shouldn't blame her for what follows...
I started playing piano when I was two years old. I can't remember how it sounded, but it was bad enough for my parents to insist that I take piano lessons. First, though, they made me sing. That was a mistake.
Unfortunately, my piano teacher believed that musical composition had stopped circa 1850. As far as she was concerned, Wagner and Mahler were new-fangled rubbish, not to be mistaken for real music. As for "that horrible modern noise..." that I liked - there was no hope for me whatsoever.
As a result, and despite winning a couple of music festivals, I soon lost interest in playing and quit my piano lessons when I was ten. Blessed relief! I would never have to play another boring, twiddly baroque exercise again!
I was eleven when I discovered blues and jazz piano. A 4th-former at my school was messing around with E, A and B7, and I thought that it sounded incredible. After that, there was no looking back. Oh yes, there was also the small matter of a three-manual cathedral organ to master. Now, that was fun...
My first synthesiser coincided with the early days of progressive rock. So it's no surprise that I spent much of the early-70s trying to play ELP and Genesis tracks on a cheap monosynth. It didn't work. (The synth did, the ELP didn't.) So I joined the world's first punk band, endearingly named Hot Matron and the Haemorrhages, but almost always known simply as Hot Matron.
With all due respect to some very fine musicians in that band (all of whom have since gone on to have a greater or lesser degree of musical success) Hot Matron was less than, shall we say... polished. Great fun - yes. Polished - no. Then there were its many successors, including the one that I was in, the poorly named 6th-form supergroup and one-gig wonder, Cheesecake. It was time to do something different, so I went to University and took the opportunity to spend my grant on more keyboards and start a new band. Mirage was a real throwback to the heyday of Prog, and was therefore clichéd and self-indulgent. However, like all latter-day prog bands, we had a core of fanatical supporters. (Well, maybe 'fanatical' is too strong... mildly interested is probably nearer the truth.) Oh yes, and we had a great, jazz-influenced drummer - take a bow please, Ronnie Bennett.
In 1981, Ronnie and I moved to Cambridge, and Mirage metamorphosed into the aptly (indeed, too aptly) named Déjà-Vu. In an era of electro-pop and New Romantics, we continued to plough the Prog furrow. One reviewer claimed that our guitarist even looked like Mike Rutherford! With no bass player, we created huge keyboard textures - blame The Enid for that - laced with guitar, drums, and a female singer who couldn't sing. Ah, the days of the epic 22-minute composition... it's a shame that we didn't realise that we were ten years too late.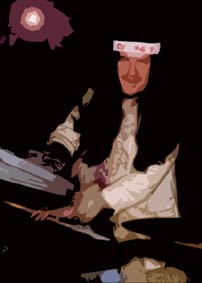 Deja-Vu lived, together with its engineer/lyricist, Ian Oakley, in a converted coach house just outside Cambridge. It was an idyllic time, until the guitarist and I started punching each other. So I left, followed shortly afterwards by Ian and Ronnie, who moved to Romford to join the latest incarnation of Chemical Alice - itself decimated by the departure of Mark Kelly to Marillion. I then re-arranged much of the material for solo performance using one of those new drum-box-thingies that had started to appear. With nine keyboards, bass pedals, two microphones, and half a ton of back line, mixers and whatever... I could almost make the music sound almost exactly unlike how I had originally intended.
Bill (the guitarist) and I worked together again in 1984 and 1985 before, in 1986, Deja-Vu was reborn with all-new personnel (including a bassist). This band lasted five years through three incarnations, with at least one former member leaving to become a highly regarded rock musician in the USA. The turning point was, however, when the bassist told me that I wasn't allowed to use my Minimoog on-stage because "it detracted from the singer and guitarist". Shortly thereafter, the band split - and not before time.
During this period I was commissioned to write and record some music for BBC local radio, most significantly for The Technoshow, which was broadcast at least twice a week for around five years in the late 80s.
Deja-Vu's final guitarist was Clive Osborn, an excellent musician would later feature on three tracks from my unreleased Painting Imperfect Pictures CD. Clive brought a harder edge to the band, transforming it from neo-Genesis widdling into a tighter and significantly better act. We continued to work together on other projects, including the Mellotron CD, Rime Of The Ancient Sampler, and the infamous Clive's Wedding, with me wearing a scarlet satin basque, high heels, panties, and... a saxophone.
In 1997 I was approached by Pawel Achtel, a Polish/Australian who had heard a couple of the tracks composed for Pictures at a studio in Sydney. He asked me to create a soundtrack for his Aliens Of The Sea project, and I was delighted to do so. Combining synths, percussion, and Clive's excellent guitar work, we managed to avoid the 'aimless twiddling over A minor' that characterises so much modern soundtrack music.

Happily, the world seemed to enjoy the results. Premiered at the New York International Film and Video Festival in 1999, it was received very warmly and won the Gold Camera Award for the Best Soundtrack. To give credit where it's due, we recorded almost everything on Aliens at Nick Magnus's Alpha Control Studio. Nick is a keyboard player and percussionist who worked for many years with former Genesis guitarist, Steve Hackett, and his Synthesiser, Panpipe and Celtic CDs have sold millions of copies world-wide. He polishes my material in ways that I could never achieve.

Now, did anybody ever tell you the story of the guy who failed to receive an Oscar because he filled in the forms incorrectly? Well, it's true. In February 2005, my colleagues and I were awarded a SciTech Academy Award and although I completed all of the documentation, I forgot to add my own name and that of Clive to the list of recipients. We still attended the ceremony, of course, and we were delighted to receive the honour, but it would have been nice to have had our names on the thing!
More recently, I was proud to contribute to the soundtrack of Bright Sparks, a documentary that profiles luminaries of the synthesiser field including Herb Deutsch, Alan Pearlman, Peter Zinovieff, Ken Freeman and many more. At around the same time, I also worked on the audio that would become the track Giving Me A Chance from the album Making Mirrors by Gotye.
There have been numerous other projects but, since 2007, I have also been the keyboard player in the Pink Floyd trubute band, The Floyd Effect. We perform in theatres across England and Wales, and have headlined numerous tribute festivals over the years. TFE is packed with top-class musicians and vocalists and has proved to be very rewarding. What's more, nobody has punched anybody yet. Hopefully, you'll have the opportunity to come to see us, and to say "hello".
At this point, I'll simply thank everybody in this story - named and anonymous to protect the guilty - and leave it to you to decide whether any of it has been worth it.
All the best,

Gordon.